Stipple quilting is my favorite way to secure my quilt sandwich (quilt top, batting and backing) together. It's fast and adds dimension to the quilted project. I wouldn't stipple a large quilt simply because it would take a lot of time and thread. I save stippling for smaller projects like my table runner.
Stippling is free motion quilting. You are the one pushing and pulling the fabric sandwich  in gentle curves. You can see  the results in the picture below.
Once you have your quilt sandwich properly pinned, you are ready to set up your machine.
I simply drop my sewing machine's feed dogs. Your machine may be different. Some machine require you to cover them with a special plate.
I attach my embroidery foot or darning foot . You  need to use a foot that will float on top of the fabric. You are the driving force to move the fabric, so you don't want anything to hold onto the quilt sandwich.
I don't use any particular stitch length because again you are moving the fabric which will determine how long the stitches will be.  Your machine may be different so check with your owner's manual to see if you need to use certain settings.
I also use a gripping tool made by Husquavarna. This helps my hands grip the fabric. Makes moving the fabric easier. You don't need a tool like this. You could use gripper gloves or your bare hands.
Next put your quilt sandwich under the presser foot and lower it.
Grip each side of the sandwich and begin stitching.  Use a medium speed.  Don't go too slow. Be steady. Move the fabric slowly but using a medium speed on the sewing machine. This will allow you to have graceful loops. Do not cross your threads. Think of this as driving around a mountain road.
Relax and breathe . Enjoy the process.
There you have it. Don't stress if your stitches are uneven or if your loops look like squares. Once you have washed your finished project the quilting puffs up and disguises any errors. Plus this is  hand made art. Imperfection just adds character.
Join me at: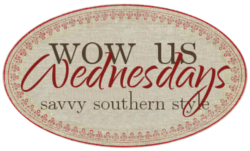 The following two tabs change content below.
There is no other place I'd rather be than at home. Creating through cooking, sewing, home decor and organizing it all. Here is where I share my projects
Latest posts by Carol Chappell (see all)